One of the hardest aspects of the pandemic lock down has been the knowledge that so many university students have been dealing with hardship and isolation, says Belinda Hutchinson, the chancellor of University of Sydney.
Ms Hutchinson was made a Companion of the Order of Australia in the Queen's birthday honours. She is one of three people to receive the highest honour of AC along with businesswoman and philanthropist Naomi Milgrom and former Prime Minister Tony Abbott.
Other high-profile recipients include former NSW premier Mike Baird (AO), former federal minister Bronwyn Bishop (AO), former Victorian premier Denis Napthine (AO), business advocate Innes Willox (AM), Indigenous leader professor Marcia Langton (AO), former Labor powerbroker Dennis Richardson, Melbourne business school dean Ian Harper, Home Affairs boss Michael Pezzullo, and businessman Ryan Stokes.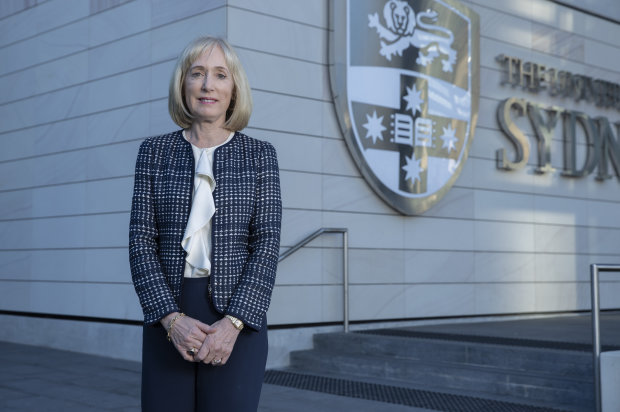 Louie Douvis
Ms Hutchinson, who has also served on several public service councils and panels, said she was "thrilled" to receive the honour, which comes 13 years after she was appointed a Member of the Order of Australia.
Ms Hutchinson is also a director of Qantas and the chairman of defence contractor Thales Australia, but most of her current roles are in the not-for-profit sector.
She chairs Future Generation Global Investment Company, a fund manager that donates 1 per cent of assets to charity each year, and is a director of Australian Philanthropic Services and a trustee of the St Vincent's Curran Foundation.
Ms Hutchinson said she felt lucky to have had many opportunities during her career and was passionate about giving back to the community.
"I've been really fortunate in my career and I've had some wonderful opportunities. I'm in a position now where I can give some significant amount of my time to not-for-profit organisations. I feel that one of the most gratifying things that I do now is serving on not-for-profit boards. You can apply so many of the skills you acquire," Ms Hutchinson said.
Her role as chancellor of Sydney University, on which she spends about three days a week on average – and more in recent weeks – is unpaid.
Ms Hutchinson, a former director of AGL Energy, insurer QBE, Telstra and retailer Coles Myer, said that while she has personally enjoyed spending more time with her family, a difficult aspect of the lock down has been the inability of offshore students to fly to Australia and the challenges faced by students who physically in Sydney, many of whom have been isolated at home because the campus was closed.
"It was sad because [there] are students who had planned the rest of their lives around getting a degree from the University of Sydney and suddenly they can't come here," Ms Hutchinson said.
"I found having no students on campus really challenging. The concern is for those students staying at home, the isolation if they are on their own. You worry about how they are coping.
"There are a lot of students out there studying on their own and that is not a great environment for young people. That is something that worries me," Ms Hutchinson said.
At Qantas she said the standing down of so many "great staff" was "painful".
Foreign students deserved JobKeeper
The Sydney University chancellor said it was disappointing that foreign students had been excluded from the Job Keeper scheme.
"I guess the government had to draw the line somewhere. But I just felt that was an area which the international students deserve. They pay a lot money to come here.
"They generate a very significant contribution to our economy and I actually think it is really good for our domestic students to have international students here on campus.
"It gives them a much greater understanding of diversity and inclusion and the global environment."
To date, the university has committed almost $40 million for COVID-19 student financial support measures, including bursaries, fee rebates and a hardship fund for cash payments.
Ms Hutchinson said she hoped the university could run pilot programs to bring some students to Australia for the second semester. That could be used as a basis for getting more international students back for the first semester in 2021.
"That is fundamental to stopping the significant revenue decline we've already experienced," Ms Hutchinson said.
University of Sydney, like the University of Melbourne, receives about 35 per cent per cent of its revenue from international students.